Story of the Alex Cramer Company®
My father, Alexander Elliot Cramer, was a merchant all of his life. As a teenager, he worked on steamships and on railroads as a "peanut butcher", selling snacks and refreshments to the passengers. In the 1940's he opened a clothing store in San Francisco. My mother ran this store while Dad served in World War II. When he came home, he continued to operate the clothing business through the 1950's.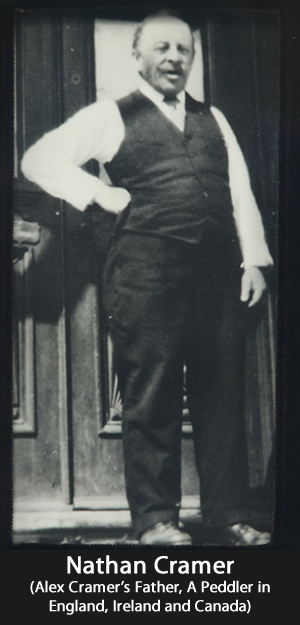 In 1954, our family moved from San Francisco to Menlo Park, California. Dad closed the clothing store and opened a toy store in Palo Alto, California. This later became a luggage, gift and game store which he and my mother ran through the 1970's. During the 1970's Dad started selling a line of games to retailers. He sold chess sets, backgammon and…dominoes. This business was called The Alex Cramer Co.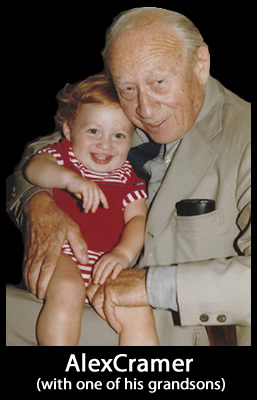 As time passed, the chess and backgammon business came under pressure because of the many low cost imports which flooded the market. The chess sets Dad imported from Europe were no longer price competitive and that segment of the business could not continue.
But in dominoes and dice cups, Dad found a niche where he could do well. He always had an eye for the highest quality products in everything he sold and his domino sets were unmatched in the marketplace. If someone wanted a top quality domino set for himself or to give as a gift, the Alex Cramer sets were the best available. Dad was always so proud of the quality of his dominoes and said emphatically you couldn't find a better domino anywhere.
Dad was a tireless worker, and business was all he knew. As he aged, his business became smaller and he no longer exhibited his products at trade shows, but he maintained his warehouse, his products and his precious relationships with customers who became his friends. He would often make deliveries in person and then stay around to talk business. Everyone who knew him loved his humor and his way of doing business.
He continued the business through his 97th year. It was a one-man show and he continued to lift boxes, ship orders, build fixtures, and do product photography.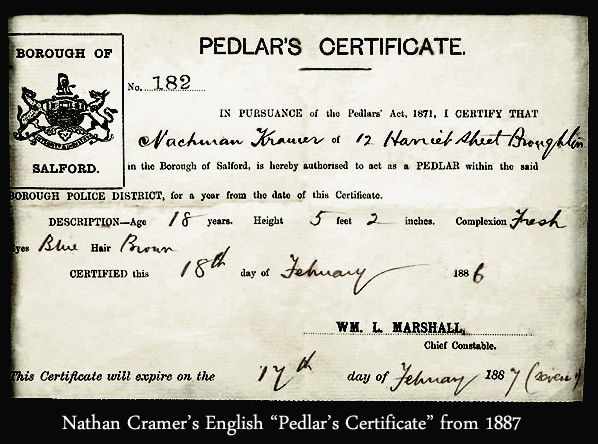 He was also always thinking of new product ideas and ways to market the dominoes. In the Spring of 2006, at the age of 97, he became unable to continue the business. He passed away in February of 2007. Up until the end, he was still drawing up new ideas and product names.

After Dad's death, I thought we would have to liquidate his inventory and let the business fade away, but his customers were clamoring for his product and I decided I would continue the business, the company name and the same standard of quality. I have now modernized things a little, particularly with this website, but our goal is to continue the traditions of the Alex Cramer Company for as long as we can.
I have two sons, so who knows how long this might go on.


Irl Cramer
Manhattan Beach, California
April 2008
---
About Us
Since 1975, the Alex Cramer Company® has been the source for the finest domino sets, dice cups and cribbage boards on the market. Our products are built with precision and quality to provide players an extraordinary experience. We have always focused on providing the highest quality in everything that we build, and we also take pride in providing top-notch service to our customers.
DOMINOES MADE TO LAST Our Tournament, Classic and Double-Nine dominoes are made from Urea Stone which is precision molded at pressures over 3000 pounds per square inch to make them virtually indestructible. Our dominoes are carefully polished to have a smooth surface and gently rounded corners. The domino dots are deeply drilled with glossy black color that gleams in the light. The dominoes are dense and heavy to give them a solid feel in your hands.
HANDCRAFTED DOMINO CASES These "works of art" are made from hand-selected American Black Walnut cuts native to the U.S. and Canada. Eased corners and a refined finish to feel the raised subtleties of the wood grain. The lacquered finish is sanded smooth and hand-rubbed with Danish Oil. Stunning brushed brass closure latch and brass hinges.
MADE IN THE USA Our domino and dice cases are hand-assembled in the USA with extra-strong "splined" construction.
OUR IRON-CLAD GUARANTEE All our products are guaranteed for life against any defects or breakage. We have a "no questions asked" return and replacement policy.
FREE REPLACEMENT SERVICE Even if you lose one of our dominoes, pegs or dice, we will supply a free replacement.